Douglas Yates Publishes Historical Dictionary of Gabon
Thursday, 04 January 2018

Professor Douglas Yates has just published the fourth edition of the Historical Dictionary of Gabon (Rowman & Littlefield, 2018). This new edition brings the political affairs of this French-speaking, oil-rich, equatorial African country up to date since the accession to power of Ali Bongo, eldest son of Omar Bongo, who died in 2009 after the publication of the third edition.
Yates is an established country expert who has been researching and writing about Gabon for the past quarter-century, starting in 1993 with his doctoral dissertation at Boston University, later published as The Rentier State in Africa: Oil-Rent Dependency and Neo-Colonialism in the Republic of Gabon (Trenton: Africa World Press, 1996). Since then, he has taught and directed graduate research on African politics at the American Graduate School in Paris and has consulted for the State Department and Defense Department of the United States government as well as non-governmental organizations, private international investment firms, African studies centers, and European development agencies. Yates was already the co-author (with Marquette University's David Gardinier) of the previous edition of the Historical Dictionary of Gabon (2006) and has also authored the annual chapter on "Gabon" for Brill's Africa Yearbook since its creation in 2004.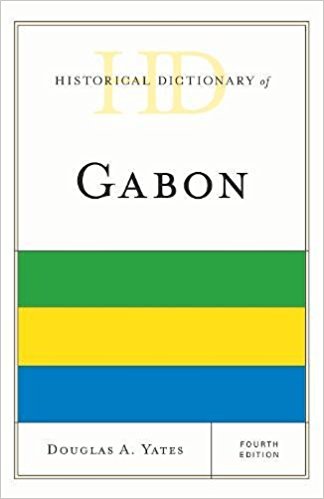 This fourth edition opens with a historical introduction providing general coverage of major aspects of Gabon's past, from prehistory, through the ages of exploration, colonialism, and decolonization, until the contemporary post-independence period. This overview is followed by a veritable miscellany on Gabon, with more than 300 cross-referenced entries on historical events, economic sectors, foreign relations, political and social movements, economic actors, ethnic, linguistic and religious groups, health, education, arts, and culture. The volume also includes an extensive bibliography, divided into several general subject areas – archaeology, history, government, economy, society, sciences, and arts.
"I first came to this project as a political scientist who specialized in the negative effects of oil on Gabonese development," said Yates. "So when David Gardinier approached me to co-author the third edition, I had never conducted bibliographic research about many of the subjects in the historical dictionary. It has been a broadening experience. Finding the latest works in linguistics for Gabon's numerous ethnic groups, listening to pygmy chants in the late colonial ethno-musical archives, delving into publications by archaeologists who have discovered early iron age civilizations of the rainforest, accessing new print on demand versions of previously unpublished journals of early fifteenth century explorers, reading scientific articles by primatologists about lowland Gorilla populations, following medical research conducted in Gabon on tropical diseases, every day discovering a new disciplinary approach to Gabon, has led me to hundreds of specialists on the country who would otherwise have never beeped on my radar screen."
The Historical Dictionaries series have been published by Rowman and Littlefield's Scarecrow Press for 40 years and can be found in research centers, university libraries, think tanks, and embassy bookshelves around the world. They are an excellent access point for students, researchers and anyone who wants to know more about particular countries. They provide expert information through several approaches and represent the most detailed, comprehensive, and accurate resource available on a topic.
Contact Us

Fabian Chima OnyekuruNigeria
M.A.in International Relations
Candidate, Class of 2017


I enrolled at AGS with a 25-year experience in NGO work, having run a Nigeria-based NGO aimed at the empowerment of te less privileged ones and the protection of women's and children's rights. AGS has provided me with greater knowleddge about the philosophy behind non-governmental work, along with broadened perspectives for working in the larger international scene.