Ruchi Anand Authors Chapter in the Routledge Handbook of Environmental Justice
Thursday, 26 October 2017

Professor Ruchi Anand authored a chapter on the hindrance caused by free-market capitalism to environmental justice in the recently released Routledge Handbook of Environmental Justice (edited by Ryan Holifield, Jayajit Chakraborty and Gordon Walker. London, New York : Routledge, 2018).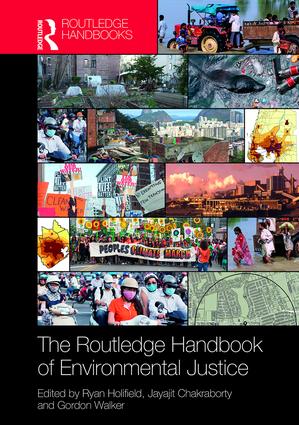 This edited volume examines pressing issues of environmental justice through contributions by over 90 social scientists, natural scientists, humanists, and scholars from professional disciplines. It looks at these issues from multiple political and cultural perspectives, and proposes new conceptual frameworks and directions for research, policy and practice.
In her chapter entitled "Free-Market Economics, Multinational Corporations and Environmental Justice in a Globalized World", Ruchi Anand looks at environmental justice as governed and impeded by the economic forces of the free market.
"Environmental justice has always been a passion of mine," says Ruchi Anand. "I wrote this chapter over the holiday break in 2016! The inconclusive conversations between social justice issues and earth issues have to go on to in the face of an uncontrolled threat that Multinational corporations brought to the international system. I am designing an entire class on Environmental justice issues in international relations, which inform all subjects of environmental governance."
Here is a short summary of the chapter authored by Ruchi Anand:
Approximately thirty years after the environmental justice movement took shape in the United States, its theoretical and practical underpinnings have become a rhetorically inherent part of law and policy at the national and international levels.
This chapter forwards the argument that the economic backdrop of globalization and free market capitalism accompanied by an explosion in the number of multinational corporations (MNCs) obstructs the enforcement of environmental justice in powerful ways. Human welfare, justice, and equity concerns are trumped by forces of the market that provide economic rationalizations for all such charges, evading political responsibility. Such a tyranny of the market where all ills are justified in the name of economics is like a cancer of the unleashed free market, which does not stop at state borders but spills over in ways that make questions of international environmental justice pertinent.
Anand explores the bleak potential for the realization of environmental justice goals in the wake of an explosion of multinational corporations that have begun to shape global governance. She argues that neo-liberal capitalism has become the unchallenged custodian of allocating environmental goods and 'bads', privileging the logic of the so-called 'free market' over any other contender, environmental justice included.
The free market is 'not-so-free' after all and has created, maintained and aggravated the gulf between the rich and the poor in the world. The profit motives associated with every conceivable relationship has led to the commodification of sustainable development and environmental justice. The question is whether free-market capitalism can have a soul when its motives are profit or would any such effort be merely what Milton Friedman called a "hypocritical window dressing"?
See The Routledge Handbook of Environmental Justice on the publisher's website
Contact Us
Danny Padilla Philippines
M.A., School of International Relations
Class of 2000


The knowledge I acquired at AGS as well as my inter-personal and diplomatic skills, developed during my AGS days, come in handy today when dealing with different government officials, staff from various UN agencies, and even my colleagues in UNESCO who come from different cultural backgrounds.