Master's Candidate Presents at Conference on International Migration in Turkey
Friday, 10 November 2017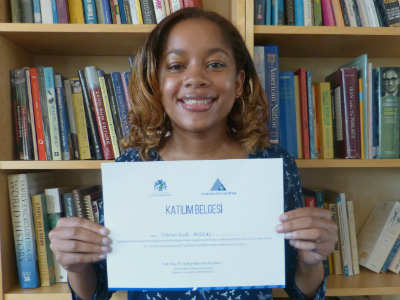 Dominique Austin, a degree candidate in the Master of International Relations and Diplomacy program, presented a paper at a conference on "International Migration in the 21st Century" that took place on October 10-11 in Istanbul, Turkey.
This was the second conference organized by the Research Center of Global Education and Culture (KEKAM) at Yeditepe University. It brought together scholars, graduate students and policy-makers to address the issue of international migration with regard to such aspects as refugee integration, security, labor, culture, brain drain, and development.
Dominique Austin's paper was entitled: "Africanistan: An Afghanistan in France's Backyard". It analyzes the Africanistan theory against the backdrop of current immigration into France from selected African countries, to assess France's fears toward immigration, particularly regarding security and terrorism, and to propose policy directions regarding these issues.
Using the case studies of Trans-Saharan countries (Morocco, Tunisia, Algeria, Chad, Mali, Mauritania, and Libya), and focusing on Islamist style terrorist attacks carried out in France in the last decade, Dominique Austine examines two hypotheses:
Failed and failing States are more likely to be the source of transnational terrorist attacks

Migrants from failed and failing States are not more likely to be agents of terrorism than natural citizens of a country
She shows both hypotheses to be true based on the data gathered in her research; in fact, French citizens made up the majority of terrorists who carried out attacks on French soil.
"My degree concentration at AGS is African studies," says Austin. "My paper delved into African and French relations, which is something that I would like to focus on in my future career as someone of African descent who speaks French and lives in France. International migration has various root causes depending on what country of origin you are focusing on – one of them being lack of development in one's home country; international development in Africa is a field that I would like to pursue in the future. Especially after reading Globalization and its Discontents, a book recommended by our professor of economics."
Contact Us

Stefan De Las Trinidad and Tobago
M.A. in International Relations and Diplomacy
Class of 2014


AGS brought me closer to the world, and to those multinational perspectives that always tended to evade a simple islander. My own ideals were tested and defended on a daily basis, as I was challenged by almost everyone, from German, Russian and Ghanaian classmates to Ambassadors and professors, who have time and again embraced the practical and academic realms of life. Paris' hard-knock life style, AGS' academic structure and my own drive to succeed have definitely provided me with the foundation to give working life the pursuit it deserves.