New release: 3rd edition of the Journal of International Relations, Peace Studies, and Development
Monday, 13 November 2017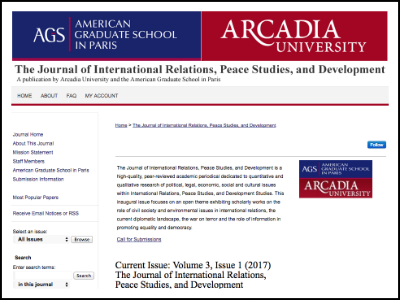 The 3rd edition of the Journal of International Relations, Peace Studies, and Development, co-published by the American Graduate School in Paris and Arcadia University, its partner university in the United States, was just released.
The theme of this issue is non-traditional and non-western perspectives in international relations, which follows the theme of the international conference organized last April by AGS graduate students under the academic supervision of Professor Ruchi Anand.
The rise in global inequalities, environmental degradation, and socio-economic instability currently being experienced in both developed and developing countries has set off intense debate questioning the legitimacy and future of the global free market system and its corresponding open and liberal social values. This seemingly growing rejection of these ideals and the rebuke of the political and economic status quo have produced a wide range of non-traditional and non-western perspectives that are helping to broaden the conversation and put forth new, eclectic and innovative approaches to confronting these issues. The Journal of International Relations, Peace Studies and Development seeks to expand the global debate countering the traditional Western biases in our approaches to social, economic, conflict and political issues.
The third edition of the journal uses a non-conventional perspective to provide an alternative voice to the dominant Western liberal narrative on topics ranging from China's growing influence in international relations (Olivier Sempiga) to Greek-Turkish Relations vis-à-vis the failed July 2016 coup in Turkey and its possible impact on the region (Nikolaos Stelgias), to a confrontation of capitalism by exploring ways to revitalize traditional labor and social resistance and proposing new equitable forms of social organization (Steve McGiffen's and Patrick Clairzier).
The Journal of International Relations, Peace Studies, and Development is an annual online-only open source academic journal jointly published by the American Graduate School in Paris (AGS) and Arcadia University. It focuses on international relations, diplomacy, and development issues as well as peace and conflict Resolution, reflecting the interdisciplinary approach and complementary academic concentrations of the two institutions. It features peer-reviewed articles, book reviews, opinion pieces and interviews.
The first issue, published in 2015, provided an open forum to discuss various topics including environmental issues, international relations, freedom of information, equality and democracy. Volume 2, published in 2016, focused on the issue of gender-based violence & oppression. The themes of the next issues will be derived from the topic of the AGS annual graduate student conference.
The Journal of International Relations, Peace Studies & Development, Volume 3, Issue 1 (2017)
For more information, contact Patrick Clairzier at journal@ags.edu