AGS Representatives Participate in International NGO Forum on Climate Change at UNESCO
Friday, 08 December 2017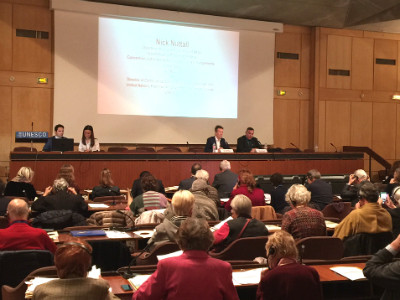 Two American Graduate School representatives participated on Thursday (7 December) in the 8th International Forum of NGOs at UNESCO headquarters in Paris, which was dedicated to non-governmental response to climate change.
Professor Douglas Yates, AGS's expert on African politics, and Larry Kilman, Associate Director of AGS and Assistant Professor of NGO Management, took part in the conference, organized by the NGO-UNESCO Liaison Committee on the theme, "Changing Minds, not the Climate: The Contribution of NGOs."
Professors Yates and Kilman were invited to participate by Marie-Claude Machon-Honoré, permanent representative to UNESCO for the International Federation of Business and Professional Women and a member of the Liaison Committee. The trio will meet later this month to discuss potential further collaboration.
Contact Us
Danny Padilla Philippines
M.A., School of International Relations
Class of 2000


The knowledge I acquired at AGS as well as my inter-personal and diplomatic skills, developed during my AGS days, come in handy today when dealing with different government officials, staff from various UN agencies, and even my colleagues in UNESCO who come from different cultural backgrounds.