Graduation Ceremony in the French Senate
Tuesday, 09 June 2009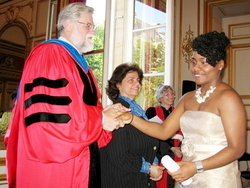 The yearly graduation ceremony of AGSIRD took place on June 4th in the French Senate. Seventeen students were awarded a Master of Arts degree in International Relations and Diplomacy. Those who had opted for a double-degree program also obtained a European Master in Diplomacy and Strategic Negotiation from Université Paris-Sud XI. Graduating students were from the US, Canada, Haiti and Liberia.
Arcadia University President Dr. Jerry Greiner came to Paris for the occasion. After he and AGSIRD president Dr. Eileen Servidio each addressed the graduating students, the commencement speech was delivered by H.E. Samira Hanna-El Daher, Ambassador, Representative of Lebanon to the Executive Board of UNESCO. Ambassador El Daher is a career diplomat who was the first woman in Lebanon to be named Ambassador, and the first woman worldwide to be an Ambassador in Japan. She also served as Lebanese Ambassador to the USA, China, Australia, Great Britain, the Philippines, Switzerland, and Cyprus.
Contact Us
AGS 2013 Conference
April 18-19, 2013 in Paris
Theme: "Identity and Gender Politics within International Relations"

Danny Nelson
USA
EMSF, School of Business and Economics
Class of 2009


The Baruch program at AGS gave me an edge by cultivating my knowledge in finance and crafting my way of thinking. The environment of the program mirrors my work environment: my co-workers come from all over the world, but the language of work is English. The key reasons, however, for my decision to study at this school were that I had access to some of the most brilliant professors in the world and the flexibility to work while studying.