Larry Kilman Interviewed about his UNESCO Report on the Issue of Impunity for Crimes Against Journalists
Friday, 03 November 2017

Associate Director Larry Kilman's recent UNESCO publication, 'An Attack on One Is an Attack on All: Successful Initiatives to Protect Journalists and Combat Impunity' was featured in several events on 2 November, the International Day to End Impunity for Crimes Against Journalists.
Mr Kilman, who is also an Assistant Professor of NGO Management, spoke about the report in an interview with France 24 and in a Facebook Live event at UNESCO.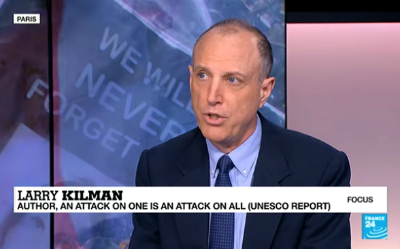 The report is a collection of stories about how journalists are responding to attacks and the dangers facing journalists in the course of doing their jobs. It is not a comprehensive overview or a statistical compilation but rather a very readable collection of very human stories, meant to inspire and be shared.
Many of the initiatives were launched by friends and colleagues of slain journalists as a way to honor them. Their projects range from providing safety and medical training, to creating guides to best practices, to educating law enforcement and prosecutors about the importance of press freedom, to investigating attacks and murders of their colleagues. Several trends emerged: a need for greater coordination, greater services for the most vulnerable including free-lancers, local journalists, more initiatives focused on the specific safety concerns of female journalists, and a growing focus on digital security and trauma counseling.
"Journalists who risk their lives to report from hostile environments underpin democracy and also provide essential insight that informs relations between nations," Mr Kilman said. "The International Day to End Impunity helps to bring attention to this role."
Contact Us

Laura-Lee Smith USA
M.A., School of International Relations
Class of 2009

As citizens of the world community, AGSers share a deep will to improve international state of affairs. This drive for change translates into prescriptive discussion between students and teachers, not simply criticism. I most admire this quality about AGS and know that because we have the will to improve the system, we are the way for change.